Worship with us
Sunday 10:00     Holy Eucharist with Sunday School
Special services for holy days.
See our calendar.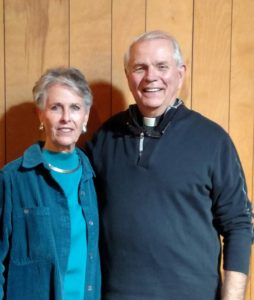 Fr. Tom Buechele, Priest  and his wife Jean.
St. Martin's is a church dedicated to loving God and loving God's people.
Everyone is welcome
Plenty of parking is available including handicap access.
Microphones are used during the service and hearing devices are available.
Come to our service and enjoy the people, the worship, and the service to others.
Community Outreach includes:
Food Pantry
read about our food pantry offering in the ABOUT US page 
Open to the public the last FRIDAY of the month                      (
w/holiday exceptions

)
11:00 a.m. – 1:30 p.m.    See calendar

Donations for the pantry are gratefully accepted on the day before (Thurs.).
You may drop off donations of food, clothing and household items between 9:30 and 12:00. Please see the list of acceptable items on our donation flyer posted at the pantry.
Healing Service 


Held on Wednesday prior to food pantry 12:00 p.m. – 2:00 p.m.
calendar
Address


95 Cleveland St.
P.O. Box 786
Shady Cove, OR  97539
Phone:  541-878-2166
Map it:    map to St. Martin's